The Art of Presenting - Would you like to be a stronger presenter?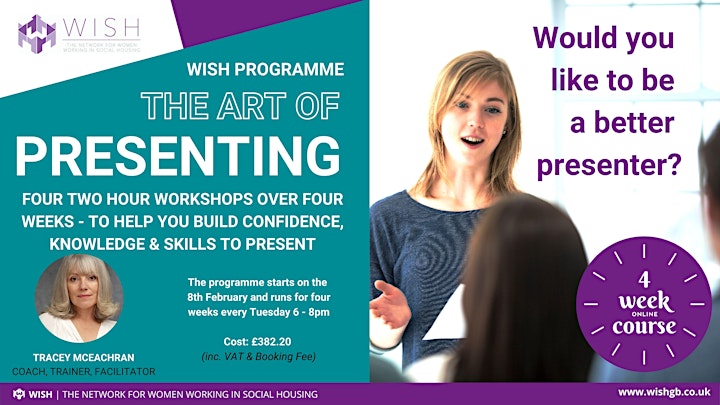 The Art of Presenting
Would you like to be a stronger presenter?
Do you utter the words "no thank you" when someone asks you to present?
Or would you like people to think "she is a natural" every time you do get up on your feet to share your thoughts and ideas?
Then come February we shall be running an online programme that is designed for you.
We know from feedback from WISH members and board members that many women find it hard to be heard and many decline opportunities to speak or deliver presentation from lack of confidence or self-belief. The ability to speak in public is an essential leadership skill, but done well it is also an incredible boost to self-belief and confidence which allows women to share their wisdom and talents in the world.
We wanted to offer our members an affordable online programme that will help them find their voice whether that is in an internal or external meeting or presentation. The programme aims to provide participants with the knowledge and build a mind- set that enables them to deliver a compelling presentation that is memorable.
This is an online programme via Zoom.
Here is an overview of each of the 4 sessions :
Session one
Date: 08/02
Time: 6–8pm
Theme: My internal stories and the power of stories to engage.
In week one we examine what gets in the way of us speaking up or presenting with confidence. We look at mind-set and experiences that have facilitate positive and negative thoughts. We also build a fuller picture of ourselves and all the experience and expertise we bring when we present. The participants are introduced to the power of story telling to engage an audience.
Homework: Reflection and journaling
Session two
Date: 15/02
Time: 6-8pm
The audience and the presentation. In week two we discuss the audience and all the aspects that we need to consider before we start to create our presentation. We will look at how to design and build a presentation with the audience in mind.
Homework: Start creating a presentation
Session three
Date: 22/02
Time: 6-8pm
Theme: On the stage.
Week three we look at all the aspects of delivering a presentation, from handling nerves, thinking about body language and how to use our voices more effectively.
Homework: Continue to develop a presentation. Look for opportunities to present.
Session four
Date: 01/22
Time: 6–8pm
Theme: Putting the training into action.
Week four is a celebration of all the skills everyone has learnt. Each participant is given a 5-minute slot to deliver a presentation at the end of which the group gives feedback.
-----------------------------------------------------------------------------------------------------
The cost of the programme is £382 incl VAT and booking fee*.
There are only 8 spaces to ensure that everyone gets the attention they need to flourish, so please book early.
For any questions about the course please email Tracey McEachran: tracey@curiousmindsconsulting.com
-----------------------------------------------------------------------------------------------------
Here is what others have said about the programme.
"The Art of Presenting training was one of the most rewarding and beneficial training classes I've ever taken. I was amazed at the transformation in myself. Tracey makes you feel incredibly comfortable and at ease. She did an outstanding job and this is outstanding training. This was a life-changing experience for me and I highly recommend Art of presenting training."
Filipa Baptista, Equality Diversity and Inclusion Officer at Homes for Lambeth
"The Art of Presenting' course with Tracey was absolutely brilliant. She gave us really useful tools to use when presenting but also encouraged us to connect with ourselves and our own voices. The interaction she facilitated between the group is also something I'll take with me. I've learned so much!"
Hélia Ramos, Associate Architect at Stephen Davy Peter Smith Architects
After completing the course one of our cohort sent the following feedback a person in her audience
""I just want to say a massive thank you for your presentation. You delivered it with such passion, enthusiasm and professionalism. This demonstrates how seriously you take this matter. It brought tears to my eyes and I was very emotional. Please continue to raise awareness on such issues. "
* £295 + VAT + Booking fee of £28.20